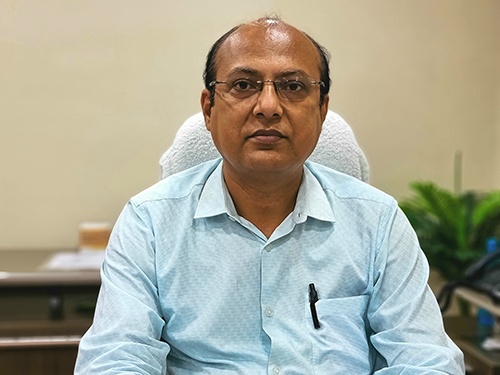 The West Bengal Livestock Development Corporation Limited, a Government of West Bengal undertaking, under the Department of Animal Resources Development, is an ISO 9001: 2015 international standard organization which has been engaged in producing, processing and manufacturing various types of meat and meat products in a healthy and scientific manner since 1974 under the famous brand name Haringhata®.
The Corporation is engaged in the marketing system and committed to deliver the right quality protein to every Bengali's kitchen. This brand's variety of meat and meat products such as sausages, nuggets, popcorn, ham, bacon, salami, cutlets, kababs, etc. are very popular and widely enjoyed by non-vegetarians throughout the state and even outside.
Commercial production and marketing of two state-of-the-art meat processing centers at Haringhata, Nadia in South Bengal and in Phansidewa of Darjeeling in North Bengal is underway to produce various types of meat and meat products under the brand name Haringhata®. These two factories meet ISO 22000: 2005 standards and are FSSAI licensed.
Haringhata® Meat can produce around 22 metric ton of chicken meat daily with its two modernized chicken plants. In addition to that, in separate infrastructure, the brand has a capacity of weekly production of 15 metric ton pork meat and has another infrastructure for producing 2.5 metric ton of sheep and goat meat daily.
Haringhata® Meat is the pioneer in initiating the production and marketing of different non-conventional meat in the state. It is producing and marketing low calories Quail Meat, popular Turkey Meat, Duck Meat, Rabbit Meat, Cockerel meat and the most famous Vanaraja Chicken.
Most recently, the corporation has introduced marketing of Haringhata® Fish brand with a variety of fish products such as fish fry, fish finger, fish ball, etc. and has gained the momentum in a quick span.
The State-of-the-art Kalyani Layer Farm under the Livestock Development Corporation has also started commercial production and marketing of table eggs with primarily under capacity of around 2.5 lakhs per day. This provides a strong support towards per capita availability of daily dose of protein for immunity boosting.
To stabilize the supply chain of live broiler birds, the corporation has successfully introduced backward linkage system through Broiler Integration Project for both South and North Bengal. Around 500 farmers are now directly brought under the integration facility and are being benefitted thus in a judicial way of self-employment.
The WBLDCL is also engaged in processing and manufacturing the specially formulated feed required for broiler integration system and for the commercial egg production unit in its own feed milling plants. There are at present five numbers of animal feed milling plants under the Corporation which are producing animal, birds' and fish feeds in the brand name of EPIC® Feed.  The feed milling units are situated in Kalyani, Salboni, Durgapur, Gazole and Siliguri in West Bengal. The total capacity of feed production is in the tune of 145 metric ton daily. At present, there is another poultry and broiler feed production center in Madhyamgram under the control of EPIC® Feed brand with a daily production capacity of about 75 metric tons.
The other important developmental activities that are undergoing under the umbrella of West Bengal Livestock Development Corporation Ltd are:
A key strategic approach taken for 2021 is to structure our business under key business tabs – Haringhata® Meat>> EPIC® Feed>> Farms>>Haringhata® Egg>>Lab Animals>>
Establishment of state-of-the-art broiler breeding farm which has started its production at Jatiyakhali in Jalpaiguri district of North Bengal. The target is to produce around 54-60 lakh broiler chicks per year. This will be delivered to the farmers under Broiler Integration farming system.
A duck breeding Farm has been set up at Kalyani in Nadia district where 500,000 ducklings will be produced annually and will be distributed in different Government schemes as well as, will be available for farmers in a reasonable price.
A state-of-the-art pig breeding center at Haringhata in Nadia district has set a target of producing about 2200 Piglets per year. In addition, a biogas plant has been set up here to generate electricity and gas from pig waste. The pig breeding center at Mohit Nagar in Jalpaiguri is also producing 1000 Piglets a year.
Modernization work of the corporation's own goat breeding center at Haringhata is under process and will soon be completed.
Animals used in the laboratory such as rabbits, guinea pigs, rats, mice etc. are bred, produced and marketed as per CPCSEA Guideline at State Center for Laboratory Animal Breeding (SCLAB) at Buddha Park, Kalyani, Nadia District under the Corporation.
Under the aegis of the corporation, trainings are also arranged for the farmers for different livestock farming business.
In addition to production and marketing of meat and animal feed, the West Bengal Livestock Development Corporation also engage in the production, processing, packaging and marketing of ghee, honey and mustard oil in the market. And last but not at the least, the corporation has now introduced bottle packed pure drinking water under the name Haringhata® BLUE, with huge popularity.
As the growing initiatives are maturing day by day, the marketing channels are also growing up for this Corporation. A target has been set to recruit more and more dealers / franchises across the West Bengal and even outside under the Haringhata® Meat and EPIC® Feed brand in the future. This initiative will pave the way for economic self-reliance and foster entrepreneurship.
Dr. Gouri Shankar Koner
Managing Director,
West Bengal Livestock Development Corp Ltd.